The electric scooter is a very practical means of transportation, it allows you to shuttle around the city and travel conveniently within a short distance without worrying about congestion and parking problems. But when buying an electric scooter, we need to consider a series of factors in order to choose a product that suits us. Here are a few key points for choosing an electric scooter.

The first is the wheel diameter of the electric scooter. Generally speaking, an electric scooter with a larger wheel diameter has a stronger ability to pass through uneven roads, but it will also affect the stability of the body and the flexibility of turning, so you need to pay attention to balance when choosing.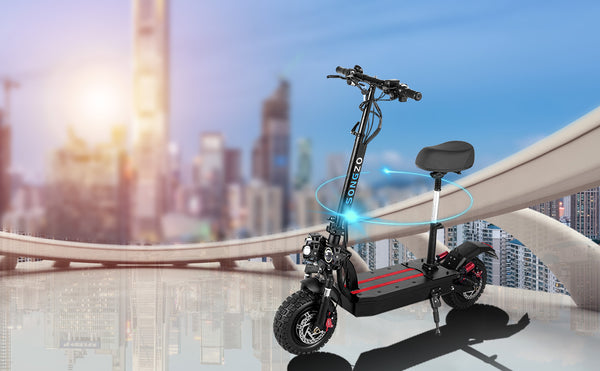 The second is the endurance of electric scooters. The battery life is directly related to the time and distance you need to use the electric scooter, so you need to choose a model that suits your actual travel needs. If you need to use an electric scooter for a long time, you need to choose a model with better battery life.

Again is the motor power of the electric scooter. Motor power can affect vehicle speed and climbing ability, so you need to pay attention when choosing.

Finally, choose an electric scooter with better brand protection. There are many different brands of electric scooters on the market. Choosing a brand that supports quality assurance and better after-sales service will help ensure product quality and after-sales service.

In short, choosing an electric scooter needs to make trade-offs in the above aspects according to your actual needs in order to find the most suitable product for you.


Songzo DK11 dual-motor off-road electric scooter, with the combination of two 2800W motors and extremely grippy tires, is a veritable off-road conqueror. The top speed of 80 km/h and the maximum driving distance of 80 km also benefit from the 60V 26Ah lithium-ion battery. Of course, the SONGZO DK11 is not just for off-road riding.

SONGZO electric scooter has navigation function and audio function. Super storage function. There is also a bottle cage. USB charging port. Such a useful and cool electric scooter. Mainly buying our car will give you:
1: Waterproof phone holder.
2: High-quality subwoofer waterproof audio.
3: Speaker stand.
4: Water bottle cage.
5: Aluminum alloy handlebar extension rod.
6: Super large storage bag, you can put down the charger and so on.
7: The complete set is suitable for all SONGZO electric scooter models: DK11.MX11.MX18